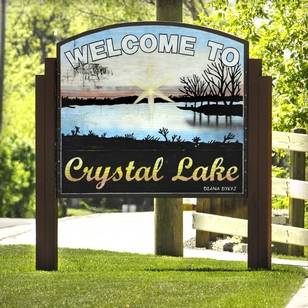 Located just an hour northwest of downtown Chicago, Crystal Lake is the largest city in McHenry County. Crystal Lake is situated along major roads and highways, including Northwest Highway (Rt. 14) and Routes 176 and 31. Crystal Lake also has two Metra train stations which provide service to Chicago along the Union Pacific/Northwest line.
Crystal Lake residents enjoy the cultural and educational opportunities of a major metropolitan city - in a friendly, small-town atmosphere.
The City of Crystal Lake has many beaches including the Three Oaks Recreation Area. Three Oaks includes grassy a picnic areas, hiking trails, fishing, a playground and spray park, a concessions area, patio, and a sandy beach.

Three Oaks is free to residents of Crystal Lake with a valid ID showing a Crystal Lake address and a valid village vehicle sticker. The 238-acre Crystal Lake and has two beaches, many local parks, and numerous recreational facilities and programs that is all maintained by the Crystal Lake Park District.
Crystal Lake has an award-winning public library, state-of-the-art healthcare, live theater and musical entertainment, not to mention top-rated schools!
Neighborhoods
Abbey Ridge
Asbury Park
Ashton Pointe
Barlina Place
Barreville Ridge Estates
Bayview Beach
Berian Estates
Berkshire Place
Braeburn
Brandywine
Bryn Mawr
Burtons Bridge
Camelot Condominiums
Cepek's Crystal Vista
Chasefield Crossing
Coachlight Ridge
Cobblestone Woods
College Hill
Colonel Holcomb Estates
Colony I
Colony Square
Country Club Addition
Country Meadows
Country Oaks
Coventry
Coventry Club
Covered Bridge
Crystal Chateau
Crystal in the Park
Crystal Lake Estates
Crystal Lake Gardens
Crystal Vista
Crystal Woodlands
Deerwood
Edgewood Acres
Essex Village
Fieldstone Village
Forest Hills
Four Colonies
Foxfire
Georgetown at Turnberry
Greenbrier Park
Harvest Run
Hazelwood
Hunters Ridge
Hunters West
Indian Hill Trails
Kellogs
Kelly Woods
Killarney Acres
Kings Gate
Lakeside Pointe
Lakewood
Mistwood
North Crystal Lake Park
Oak Grove
Oak Leaves
Oakbrook Estates
Oakwood Manor
Paradise Grove
Park Place
Pine Paradise
Pomeroys Addn
Prairie Ridge
Randall Village
Regency Park
Ridgestone
Rolling Hills Estates
Shenandoah Estates
Silver Glen Estates
Somerset
Spring Ridge Valley
Squaw Creek
Steeple Run Estates
Sterling Estates
Stonebridge
Summit Glen
The Springs
The Villages
The Woods of Stone Ridge
Timberhill
Turnberry Estates
Virginia Road Condominiums
Walk Up at The Park
Walnut Glen
Wedgewood
Westmoor Gardens
Westwood Park
Willows Edge
Windham Cove
Windy Knoll
Woodscreek
Wyndmuir Ridge